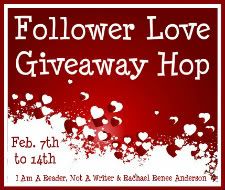 GIVEAWAY CLOSED
Good News! I'm having a Giveaway for all the New Followers sign up with my new LINKY F♥LLOWER Tool. I'm linking up with Kathy @ I Am A Reader Not A Writer to do an amazing Super Blog Hop, where you could sign up to potentially win MANY amazing prizes. So far there are over 200 blogs participating in F♥LLOWER LOVE and each is hosting Their Own Giveaway that YOU, our Followers can enter to win! The Gigantic Follower Giveaway Hop starts on February 7th and ends February 14th, Valentine's Day!
Firstly, please SIGN IN so if you win I have your relevant information and can contact you! Then follow the instructions below to get your two entries into my Giveaway!!
I will be giving away a fantastic new Mystery, "Catch Me" featuring Detective D.D. Warren by Lisa Gardener. I was sent an advanced copy by Penguin Books for review before it's officially published on February 15th, 2012. With this book I'll be including one of my original bookmarks from my Etsy Shop. It just makes sense to send a lovely bookmark with this gripping new novel. I mean, how else are you going to mark your page??!? I was so inspired by winning the right to review an upcoming book that I decided pay it forward and let someone else be inspired too!
When you're finished adding yourself to the Follower Tools below, please remember you HAVE TO sign in using the Comments Tool above.
JUST ADD WATER SILLY'S FOLLOWER TOOL:
INSPIRATION AVENUE'S FOLLOWER TOOL:
After you've followed both blogs go to I'm A Reader, Not A Writer and click on the next Blog to Hop to!
For all my L♥vely F♥llowers & Readers, have a wonderful upcoming week!